COMPANY PROFILE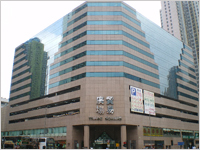 達格美電子(香港)有限公司成立于1998年4月。
是由日本タクミ(TAKUMI)商事株式會社100%出資設立。
本著"即時向顧客提供所需要產品"為宗旨,配合瞬息萬變的集成電路市場,我們備有大量的優質名牌產品以供選擇。
本公司與日本總公司及美國分公司緊密聯係,是東南亞地區進貨及銷售中心。
We are jointly owned and managed by Takumi-Shoji Co. Ltd(100%).
In a bid to promptly meet customer needs in the rapidly changing Intergrated Circuits market, we keep our own stock in JAPAN and HONGKONG.
We maimtain close liaison with our Tokyo-headquarters, TAKUMI SHOJI and the branch office, in U.S.A., SINGAPORE, SHANGHAI.
We serve as the operation hub of the import and sales function in South East Asia. To ensure our customers' varied demands are fully satisfied, we seek to expand the sales network and to strengthen the supply channels and intelligence source through a highly efficient system.


達格美電子(香港)有限公司
香港九龍長沙灣貿易廣場681號長沙灣道7樓713-713A室
电话 852-2620-6262  传真 852-2620-6222
TAKUMI ELECTRONICS ( H.K. ) CO.,LTD
Units 713-713A on the 7th Floor of Trade Square, No.681 Cheung Sha Wan Road. Kowloon, Hong Kong
TEL:852-2620-6262 FAX:852-2620-6222
HEADQUARTER
SINGAPORE
U.S.A.
THAILAND
TAKUMI TRADING THAILAND CO., LTD.
SHANGHAI