COMPANY PROFILE
CORPORATE VISION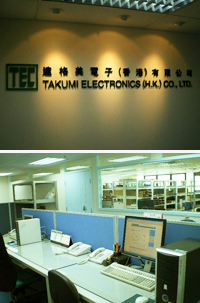 本著"支持中型小用戶的發展"的宗旨,有下列的服務:
本公司工程師來解決您開發,應用中遇到的問題
提供產品供貨信息(為避免開發成功后的問題)
提供中文版技術資料(MAXIM 的部分產品及本公司代理產品)
從一片起,接受定單(為試制小批量產品生產解除後顧之憂)
-部分產品設有起訂量
大量備貨-通用,新產品,工業級,冷門產品
全球搜寻短缺產品
為客戶備貨(解決貨期太長的顧慮) -有條件的備貨
保證:
質量保證-只做新貨,只做原包裝(包退,包還)
增值稅發票保證-正規報關進口
The Semiconductor Integrated Circuit...perhaps the most significant invention of the 20th century. IC products have changed the world and changed our lives. In the 21st century, IC products will continue to evolve and contribute to the creation of new values.
Takumi Electronics (H.K.) Co., LTD. is a fast, reliable source of cutting-edge electronics components, with IC products that satisfy a wide range of customer needs. Based on a philosophy of setting challenges for the coming century, Takumi seeks to develop and commercialize products that remain a step ahead, while incorporating environmental concerns into its business strategies in order to continue evolving as an earth-friendly corporation.

Copyright © Takumi Electronics (H.K.) 2011. All Rights Reserved